I received product in exchange for my honest review.
I've always been sentimental. This is evident in the fact that my kids are still playing with toys I had as a child, and I could probably relate the story behind the toy and who gave it to me without thinking for too long. It's not a shocker that I love jewelry with meaning as well. I'm not a big jewelry wearer, but if someone special gave me the piece or it has a specific purpose, I'll love it forever. That's how my new Mama's Jewelry Mother's Ring is for me.
My experience
When I had the chance to receive and review a ring, I jumped. I've been eyeing rings and other family-related pieces of jewelry. I already had a necklace filled with charms that related to my kids and Math Man, but my right ring finger felt empty.
One Sunday, for church, I randomly chose to wear a ring that simply said, "Love." Something about having a ring on that finger just felt right. Plus, I'd accidentally sized my finger for the Mama's Jewelry piece I would order!
Ordering from Mama's Jewelry is exceptionally easy. I logged in quickly, chose the style I wanted, and designed my ring. It was cool to see my ring basically appear on screen as I made choices. Isn't it lovely?
Turnaround time was fabulous. They were a bit behind because of Mother's Day, but ultimately I received my ring very quickly!
What is the Mama's Jewelry Advantage?
Mama's Jewelry is a family-operated business born out of a passion for creating jewelry from gold, Sterling Silver, platinum and diamonds. They care about your comfort and satisfaction and how secure your diamonds and gems are set.
The company gives customers a lifetime warranty on any piece of jewelry they buy.
A great deal of thought goes into the process of designing their rings, pendants and bracelets.
"When the customer receives their jewelry there is "wow" factor. We hear it time and time again. We always deliver 110%. We love jewelry and we want our passion for it to be evident in any piece we offer."
What is the Mama's Jewelry Advantage? Simple. They care.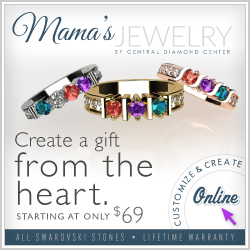 Order Today
Ordering is simple. Head over and get more information by visiting: Mama's Jewelry. I promise you'll love what you order!