Label Daddy: Beyond Labels
I received product free in exchange for my review. All opinions are my own.
Label Daddy, on the whole, has proven to my family already that they are an excellent company with high quality products. When I received the opportunity to review their labels again, I decided to go beyond "just" labels and try something new. I'm so glad I did!
This time, I tried out two different products: return labels for mailing and chalk board labels.
Return Labels
The return labels are awesome. I love the colors and the clear printing. I'm going to be hard-pressed to actually use them because they're just so pretty. I suppose I'll wait until Christmas time or another important event to show off these awesome labels.
The process for creating them is beyond simple. I just needed to choose the style and then edit right within the site's wizard. I went with a very simple R for our last name, but there are multiple options!
Chalkboard Labels
My other choice was the chalk board labels. I'd been eyeing these on other sites, so the chance to try them out with a company I trusted was a blessing. My biggest concern was that once I wrote on them, they'd hold the chalk and not erase well. My kids proved otherwise.
We have a basket for each of the four kids for their shoes. It helps to manage the chaos a little when they walk in the door and throw their shoes off. Each kid has his or her own color of basket, but wouldn't you know they pretty much constantly throw their shoes in each other's basket.
My thought was that the labels would make the basket assignments a bit more official. So far, it's working. Plus, the little ones enjoyed writing their names and feeling like they were doing something extremely important.
The next plan was to use the larger labels on our canvas drawers in the kids' room. This room seems to stay disorganized, so my goal has been to decrease the number of toys that are available (we're doing the rotate-the-toys thing) and then organize in to categories.
Because they are Label Daddy labels, they are durable and stick well to the canvas. This allowed us to have a specific location for cars, dress up, dart guns, and more!
Learn More
Save 25% on Label Daddy labels! Their exclusive laminated coating gives labels an extra layer of protection and is a must for camp. Remember to label all clothing, sports equipment, electronics, and other personal belongings your kids bring to school, camp, sports leagues, day care, vacation, and other places.
These labels are super durable peel-and-stick washable labels — they're washer/dryer safe, microwave safe, dishwasher safe and UV resistant! Label Daddy labels are also fun and attractive. You design your own labels!
Pick from tons of colors, sizes and logos, including MLB, NBA, and NHL team logos, other sport and fun logos, and more. These labels are made in the USA and shipped directly to you worldwide.
Save 25% on any label order from Label Daddy – this is the best discount available anywhere. Click here labeldaddy.com/usfamily. The discount will be automatically applied at checkout.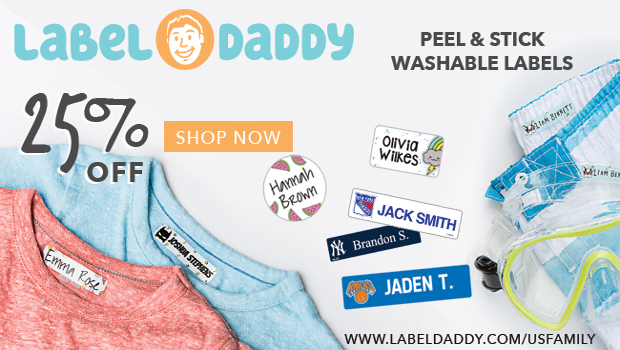 Tags:
label daddy
,
labels
,
organize
,
parenting
,
review
,
USFamilyGuide